We wish all swim dads a happy Father's Day!
Fathers are special. Their love, care and support are the pillars of strength that motivate swimmers to take the plunge and achieve their potential. We celebrate Father's Day with heartwarming stories from swim dads themselves, of the journey they took with their child as they made or are making a mark in the world of swimming. They share the key role they played in the life of their swim child, and how their children influenced them in return. It makes for an insightful, inspiring read. Enjoy!
R Dinesh Babu, Father of Khushi Dinesh, national swimmer
On the day that Khushi was born, I took one look at the little bundle and joy and felt an unknown happiness. Little did I know that day that my little princess would change my life forever. Her name Khushi truly bought "Khushi" or happiness into my life. She changed my life completely and for good.
Every father wants his name to be attached to his child's name, but I want to be known to people  because of my daughter. I want to be known as "Khushi's dad Dinesh". And that is how it is. Whenever someone calls me "Khushi's dad" I feel a bubble of pride rise in my chest. I feel extremely happy.
My friends say that if I'm in a bad mood and unresponsive, all they have to do is talk about my daughter and immediately I'm back to normal.
Ever since my daughter was born, I have always tried to be a good role model for her and this in turn has impacted my life in a huge way. Because of Khushi, I've seen myself grow into a much calmer man than I was seventeen years ago.
Khushi has taught me many lessons in life that I will always remember. She has taught me to always be positive even in the most extreme situations. She has taught me to see that there is always light on the other end of the tunnel, no matter how bad the situation may seem. Every minute I spend with my daughter is a very precious one and these memories are something I will cherish forever.
Every night I go to bed I thank God for giving me such a wonderful daughter. I am truly the luckiest dad in the whole world.
Bhanu Sachdeva, Father of Bhavya Sachdeva, national swimmer
The journey from being a swimmer to a swim parent is what every parent dreams of. It is rightly said that parents see themselves in their children. This is what I as a Arjuna awardee swimmer, and my wife as a national basketball player, wanted in our children. We wanted our dreams to be fulfilled by them. We hoped the level we could not achieve, could be achieved by them but without any pressure of only playing the same sport we did. It was just that we wanted our children to play and take up a sport of their choice and not ours.
I was fortunate that Bhavya took to swimming after playing tennis for one year, but the nicest thing was that she chose swimming herself and it was never forced by me.
I can also say one thing to all the sports parents that genes do matter. Trust me, if a doctor's child can become a doctor and an engineer's child can become an engineer, then why not a sportsperson's child can be a sportsgirl or sportsboy. Bhavya broke the national record as I did as a swimmer – it was a dream come true.
We want Bhavya to become an honest sports girl who should give her best to the nation and make our country proud. As a dad, I always want to stand by her and guide her to achieve her goals.
Vikram Khade, Father of Olympian swimmer Virdhawal Khade
Having been in sports myself as a basketball player, I was aware of all the difficulties Veer might face in his journey. I worried  about his practice and despite many problems, Veer is much more mentally prepared for challenges than anyone I have seen in my life.
For example, when he lost a medal in Jakarta Asian Games by 1/100 of a fraction, he was laughing looking at the screen. When Veer was 10 years old, he won his first silver medal in the nationals and from that day he has never turned back.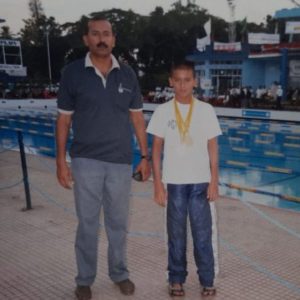 As a father, I was his supporter and guide, and stood behind him in all his difficulties. Like, when an opportunity came to Veer to join as a 1st class officer, a tahsildar, in the Maharashtra Government, he was strongly against it. He said he will quit swimming if I forced him to join. I told him he may quit to swim, but he should take up the position. Today he says, 'you were right'.
Aubrey Millet, Father of Olympian swimmer Nisha Millet
While Nisha's mother took care of the girls' studies, their diet and took them to the pool every day, it was my job to take care of all matters pertaining to their motivation. This involved helping them to deal with losing, and playing mind games like psyching out opponents which Nisha mastered over the years. Finally, once they started achieving, I was instrumental in imparting to them the virtue of Humility. Till today, Nisha remains grounded.
Nisha on her part acknowledges the financial difficulties I went through over the years and is ever grateful for the trials and tribulations I had to endure to keep them in the sport
From Nisha, I have learnt how to deal with disappointment and to still keep going. She missed qualifying for her 2nd Olympics by 0.4 seconds. I was more crushed than she was.
She also taught me (and this was more surprising) how to deal with unpleasant people. When she was all of 13 years old, we had just moved from Chennai to Bangalore and there was a swim mom whose daughter was directly affected by Nisha. She used to bad-mouth her every day. This was annoying us immensely and I was planning to complain to the Coach. Nisha said, "Papa leave it to me. I'll handle it."  The next morning at the pool,  as the lady and her daughter entered, Nisha went up to her and said, "Aunty, what a lovely sari you are wearing. The colour suits you." The lady was so taken aback with the compliment that she hugged her and said, "Thank you Nisha!". The bad- mouthing stopped. Today this lady is one of Nisha's biggest fans.